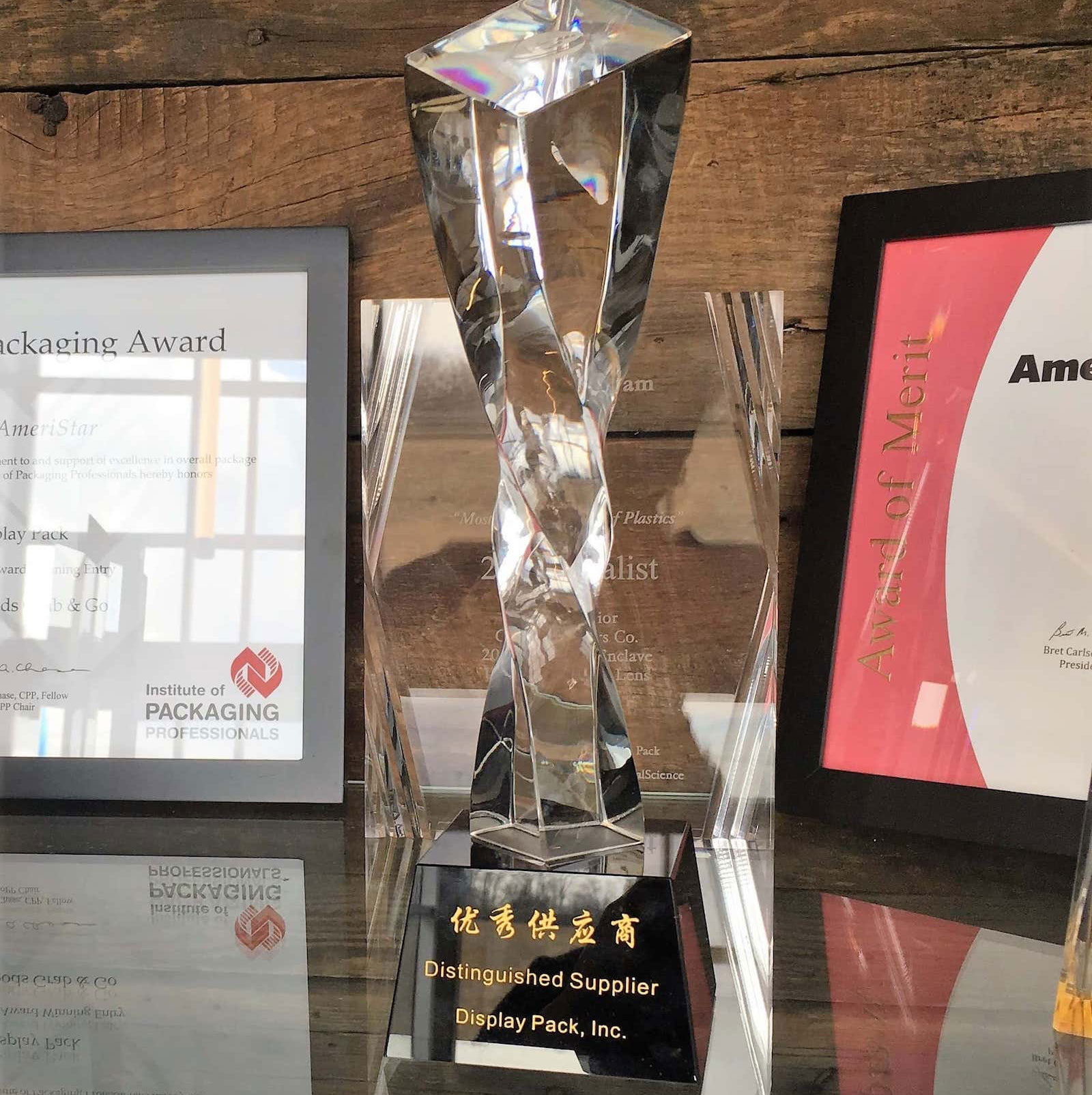 CEDAR SPRINGS, Mich. – March 14, 2018 – DPI In-Mold, a division of Display Pack and a decorative trim manufacturer for the automotive industry, earned Yanfeng Global Automotive Interiors (YFAI) Distinguished Supplier Award for the second consecutive year during the Yanfeng Americas Supplier Performance Awards Ceremony in Holland, Michigan. This award is granted to suppliers based on factors of quality, cost, customer satisfaction, development, technology and innovation, and service.
"This honor is a testament to the service & dedication of our entire team as a supplier of YFAI," said Aron Palmer, Director of DPI In-Mold Operations. "We look forward to continued success and a strong relationship with the YFAI team."
DPI In-Mold provides decorative appliques for YFAI that appear in various vehicle platforms ranging from the Ford Taurus, Ford Explorer, Kia Sorento and more. The precision trimming and visual appearance required in automotive interiors requires superior quality and collaboration between DPI In-Mold and YFAI. This collaboration is a key factor in receiving the Distinguished Supplier Award.
"We are honored to recognize our top suppliers and their teams, for their hard work and dedication," said Jim Bos, vice president, global procurement, for Yanfeng Automotive Interiors. "Their commitment enables us to better supply our customers with products that meet and exceed expectations."
ABOUT DISPLAY PACK
Based in Cedar Springs, Michigan, Display Pack is a privately owned manufacturer of consumer packaging for the food, retail, industrial, and specialty markets as well as decorative trim for the automotive industry through its DPI In-Mold division. Display Pack specializes in creating custom, thermoformed packaging solutions via their in-house design, tooling, and manufacturing capabilities and an agile, iterative design, and launch process. The company serves more than 200 customers in North America; including Meijer, Kraft Foods, Federal Mogul, Ranir, Hewlett-Packard, and Good Foods. The In-Mold Division supplies components to Tier 1 and Tier 2 automotive customers for vehicles built by GM, Ford, FCA, Honda, Toyota, Kia, and Nissan. www.displaypack.com