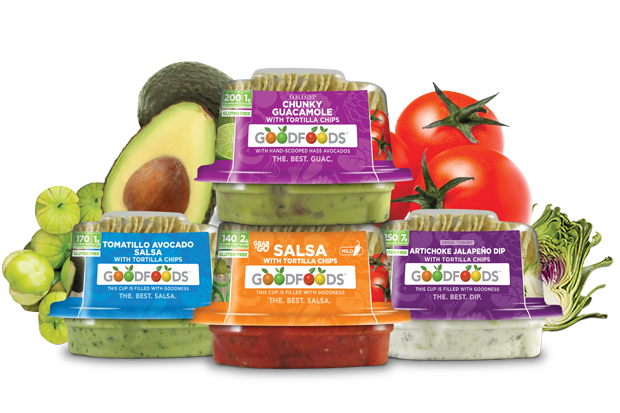 Display Pack co-developed custom food packaging for the Good Foods Grab & Go line, consisting of 4 varieties of top selling dips, including America's favorite Tableside® guacamole, paired with tortilla chips in one convenient snack pack. This line is designed to meet the needs of today's health-conscious, time-starved consumers. As Hartman Group research demonstrated (Hartbeat Newsletter, Feb. '16): "Modern snacking trends are increasingly supported by health and wellness cues in on-the-go, single-serve formats and orient to significant attributes, including: fresh, less processed (but packaged), free-from foods, health neutral, rapid-hand-to-mouth snacks and lower-sugar-content energy foods." This line is also meant to expand usage occasions for Good Foods dips while being leveraged as a trial pack for new customers, increasing the brands' household penetration.
The Good Foods grab & go line offers multiple benefits: exceptional taste, mindful nutrition and convenience. The ergonomic avocado shape complements the product line while reinforcing the premium Good Foods brand. This unique avocado shaped food packaging was made possible by the quality partnership between the product manufacturer and their packaging supplier.
To reduce the risk of pathogen contamination, the dip cup portion of these packs is high pressure processed (HPP) after being filled and sealed with lidding film. The chip cup portion is filled and sealed with a foil lid on a separate machine. The two cups are then snapped together and sealed together with a shrink wrap label for added distribution protection and increased brand appeal. The material chosen for the thermoforms was 30mil rPET for its clarity, recyclability and rigidity to withstand the pressure of HPP. Although rPET was not the ideal material from an initial sealability standpoint, Good Foods desired its clarity and recyclability. Through multiple design iterations, seal tests and HPP trials, Good Foods and Display Pack were able to refine the initial concept into the ideal package that supports the product and solidifies the brands position in the single serve, convenience category.
Also featured on Packaging World, read more here