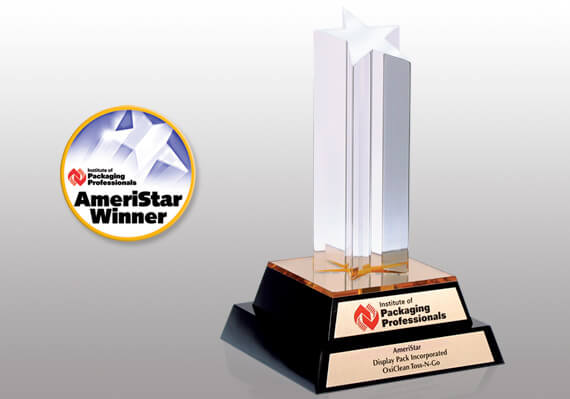 Display Pack, a leading manufacturer of consumer packaging, has received four prestigious awards for innovative packaging design.
Display Pack Inc. won an Institute of Packaging Professionals AmeriStar Award in 2006 for its design and production of the Oxi Clean plastic clamshell package and its innovative liquid tight seal. This year the package was  one of 12 finalists in the 2007 PACK EXPO Selects program, an interactive feature of the PACK EXPO Las Vegas show. It also received a  2007 WorldStar Award from the World Packaging Organization. Display Pack was one of 14 American packaging companies to win this award.
Display Pack also won two awards for its "Brochure in a Box," a.k.a. Display Pack's "Single Source Solutions Promotion," which was designed by the company's creative services department and produced by various departments of Display Pack. It received a 2007 "Printer of the Year" Bronze Award by the Sappi International Fine Paper Company, as well as the American Graphic Design Award from Graphic Design USA Magazine.
"We are honored to be recognized by the industry for innovative packaging design," said Vic Hansen, president of Display Pack. "West Michigan talent and creativity is recognized around the globe, and Display Pack is proud to employ such award-winning talent to create innovative consumer packaging for customers worldwide."
More information about the awards is available at the company's website at www.displaypack.com.
About Display Pack
Display Pack Inc. is a privately owned, Grand Rapids-based manufacturer of consumer packaging and automotive in-mold products. The company offers  Single Source Solutions™, managing entire packaging projects from start to finish within its own facilities, including designing, prototyping, printing, die-cutting, thermoforming, contract packaging, and warehousing and logistics. Industries served include automotive, electronics, household products, bath & beauty, pharmaceutical, food and consumer goods.
The company also founded an In-Mold Applications division in 1978, which manufactures decorative interior trim for the automotive industry. Display Pack is a certified supplier to automotive companies such as GM, Ford, Chrysler LLC, Mercedes Benz, Volvo, Renault, MG, Honda, Nissan and Toyota.
Display Pack employs nearly 500 and is located at 1340 Monroe Ave. N.W. in Grand Rapids. Their website is www.displaypack.com.