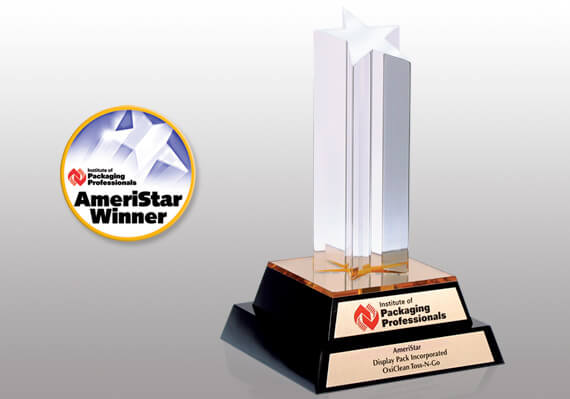 GRAND RAPIDS, Michigan – Display Pack Inc., a leading manufacturer of consumer packaging, has won the Institute of Packaging Professionals (IoPP) AmeriStar Award for packaging design. The award is for the Minn Kota® AutoPilot™.
The customer, Johnson Family Products, approached Display Pack to design a package for its Minn Kota® AutoPilot™. The package is more than a design and storage element for the product and actually serves double-duty as a parts applicator. The package includes a thermoformed plastic tray that holds the AutoPilot, a device that snaps onto a trolling boat motor to assist with GPS navigation. The device is packaged in a way that the actual tray package is the applicator the user holds onto when installing the sensitive device. The tray then secures into the boat motor to protect the accessory from the transfer of static charges to electrical components.
"What's unique about this package is not only its dual purpose as package and applicator, but that the applicator actually fits inside the boat motor and it doesn't end up in a landfill," said Marty Tidball, Display Pack's director of marketing and sales. "This package is just one example of the innovation and creativity typical of Display Pack's in-house design team." Display Pack's in-house packaging design team includes packaging engineers, tool and die experts, and packaging designers.
When the project was launched, the first thing Display Pack did is gather a group of people from different areas of the company to give insight, ideas and creative solutions that could be incorporated into the design renderings. The company's in-house die shop provided tooling for the packaging.
"We are honored to be recognized by the industry for innovative packaging design," said Vic Hansen, president of Display Pack. "Display Pack is proud to employ an award-winning team that continually creates innovative consumer packaging for customers worldwide."
The Ameristar Award will be presented to Display Pack at the AmeriStar Package Awards presentation during the IoPP Summit in May. This is Display Pack's third AmeriStar Award since 2006.
Minn Kota is the oldest manufacturer of electric fishing motors and is part of the Johnson Outdoors' family of brands.
Display Pack Inc. is a privately owned, Grand Rapids-based manufacturer of consumer packaging. The company offers Single Source Solutions™, managing entire packaging projects from start to finish within its own facilities, including designing, prototyping, printing, die-cutting, thermoforming, contract packaging, and warehousing and logistics. Industries served include automotive, electronics, household products, bath & beauty, food and consumer goods.