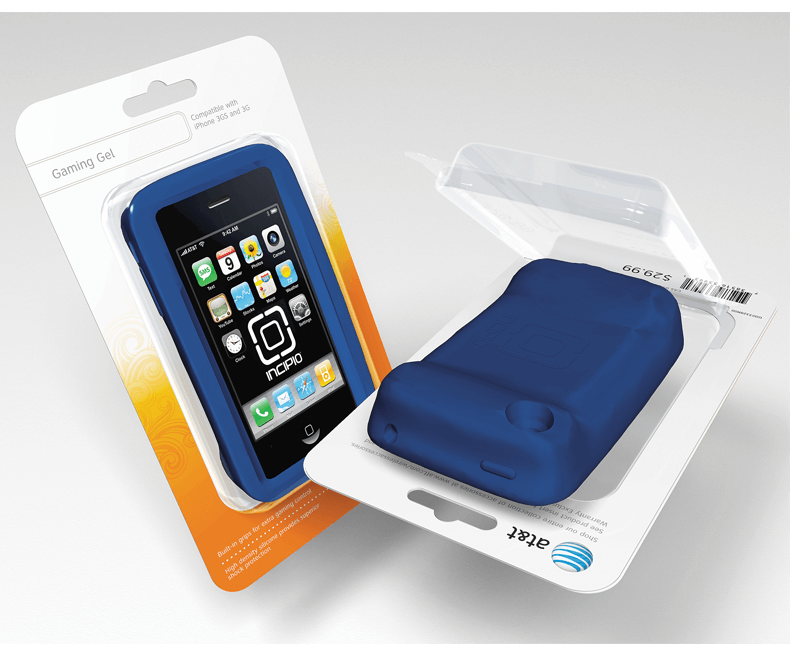 GRAND RAPIDS, Michigan – AT&T Accessible Pack – For Wireless Accessories is the recipient of a 2009/2010 AmeriStar Award from the Institute of Packaging Professionals (IoPP). This represents Display Pack's fourth consecutive AmeriStar Award.
Display Pack worked with Superior Communications of Irwindale, Calif. to design and produce accessible and sustainable packaging for AT&T cell phone accessories. The sustainable solution is easy to open and showcases the products from all views, allowing the customer to inspect and even try out the product with their own phone, then reclose the packaging without compromising package integrity.
"The packaging design team surpassed the common look and durability of an ordinary carton/clamshell package and transformed it into an interactive customer experience," said Victor Hansen, Display Pack's president. "Showcasing the products with 360-degree views, the new design models the slim, sleek 'Apple-esque' shape of the iPhone, while allowing for a unique blend of paperboard and plastic, with accessibility not seen in today's packaging."
Improved sustainability was met by reducing up to 63% paperboard and 34% plastic compared to the original AT&T packaging. In addition, because the package is designed so that it does not need to be heat sealed, the packaging process reduces heat and consequently greenhouse gas emissions. Finally, because no seal is needed, the paperboard and plastic can be easily separated and recycled.
The packaging is being used for 125 separate AT&T accessory products, creating a unified look to the brand's product merchandising. The new design accommodates many products in a uniform package with three depths to complement numerous product dimensions.
"Collective effort between our packaging and configuration teams and Display Pack's design and engineering teams made it possible to achieve and exceed a challenging set of sustainability and functionality goals established by AT&T," said Mike Fosselman, vice president of distribution and logistics of Superior Communications.
Members of the Display Pack/Superior Communications team will formally accept the AmeriStar award on May 18, 2010, at the AmeriStar and IoPP Honors & Awards Dinner in Roseville, Ill.
About Display Pack
Display Pack Inc. is a privately owned, Grand Rapids-based manufacturer of consumer packaging. The company offers Single Source Solutions®, managing entire packaging projects from start to finish within its own facilities, including designing, prototyping, printing, die-cutting, thermoforming, contract packaging, and warehousing and logistics. Industries served include automotive, electronics, household products, bath & beauty, food and consumer goods.
For more information, please visit www.DisplayPack.com.
About Superior Communications
Based in Irwindale, Calif., Superior Communications is the leading manufacturer and distributor of wireless accessories in the United States, providing a single source solution for wireless carriers, national and regional retailers, dealer agents and distributors. Superior Communications offers award-winning design, manufacturing, and distribution of wireless accessories and services. The company also provides 3PL (third party logistics) services, ODM programs, web/call center fulfillment, and field sales-training programs.
For more information, visit www.SuperiorCommunications.com.
About AT&T

AT&T Inc. (NYSE:T) is a premier communications holding company. Its subsidiaries and affiliates – AT&T operating companies – are the providers of AT&T services in the United States and around the world. With a powerful array of network resources that includes the nation's fastest 3G network, AT&T is a leading provider of wireless, Wi-Fi, high speed Internet and voice services. AT&T offers the best wireless coverage worldwide, offering the most wireless phones that work in the most countries.  It also offers advanced TV services under the AT&T U-verse℠ and AT&T | DIRECTV℠ brands. The company's suite of IP-based business communications services is one of the most advanced in the world. In domestic markets, AT&T's Yellow Pages and YELLOWPAGES.COM organizations are known for their leadership in directory publishing and advertising sales. In 2009, AT&T again ranked No. 1 in the telecommunications industry on FORTUNE® magazine's list of the World's Most Admired Companies.
Additional information about AT&T Inc. and the products and services provided by AT&T subsidiaries and affiliates is available at www.att.com . This AT&T news release and other announcements are available at www.att.com/newsroom and as part of an RSS feed atwww.att.com/rss. Or follow our news on Twitter at @ATTNews. Find us on Facebook atwww.Facebook.com/ATT to discover more about our consumer and wireless services or atwww.Facebook.com/ATTSmallBiz to discover more about our small business services.

AT&T products and services are provided or offered by subsidiaries and affiliates of AT&T Inc. under the AT&T brand and not by AT&T Inc.