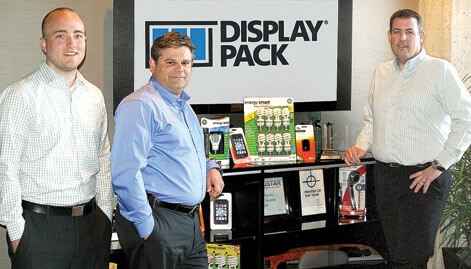 Founded by Roger Hansen in his one-stall garage where he produced skin board packaging (packaging that forms a plastic film covering over a product), Display Pack now has a staff of hundreds, and has enjoyed unprecedented growth as a leading manufacturer of consumer packaging and automotive in-mold.
Through the Company's Single Source Solutions™, it can manage the entire packaging process from start to finish within its facilities, including packaging design, 3D renderings and prototypes, thermoforming, printing, die-cutting, contract packaging and stocking programs.
The Company also founded an In-Mold Applications division in 1978. It manufactures decorative interior trim for automotive companies such as GM, Ford, Chrysler, Mercedes-Benz, Renault, Nissan and Toyota.
"Although the last few years Michigan manufacturing has taken it on the chin, we at Display Pack weathered the storm and have even experienced growth," said company president Vic Hansen "We provide products and services to a wide range of industries, including automotive and consumer products. This diversification has provided a safety net to capitalize on stronger industries while others are sluggish."
Display Pack
Founded in 1967, Display Pack is a company known for its commitment to finding a solution for every customer's unique need. A privately owned manufacturer of consumer packaging and In-Mold Applications, Display Pack offers Single Source Solutions® that manage the entire packaging process from start-to-finish. Display Pack offers Package Design; Prototyping, Tooling; Printing, Die-Cutting; Thermoforming; Contract Packaging; and Warehousing and Logistics. Industries served include: electronics, household products, bath & beauty aids, food, hunting, fishing and other outdoor and indoor sports, as well as a wide array of other consumer goods.