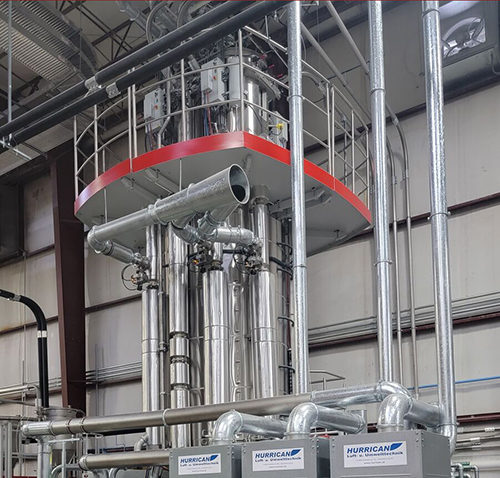 CEDAR SPRINGS, Mich., March 15, 2023 /PRNewswire/ — Display Pack invests in the addition of a Starlinger deCON IV+ unit. This installation will create a continual loop of true recyclability.
The deCON IV+ unit, one of only four in the US, will be fully operational in March 2023. This equipment takes material through a decontamination drying process resulting in high intrinsic viscosity (IV) 100% food grade material. This highly versatile unit can process post-consumer PET flake, in-house regrind scrap and pelletized material. This technology allows Display Pack to manufacture PET products with up to 100% recycled content using post-industrial and post-consumer resources while ensuring high-quality sheet extrusion.
"In addition to diverting plastics from the landfill, we can provide solutions to our customers that address their sustainability, quality, and price requirements," said Andy Blackmore, President and CEO of Display Pack.
The deCON unit is designed on a first-in, first-out principle, ensuring a constant treatment time of the material in the reactor. The IV levels of post-consumer tray material are considerably lower than bottles, so this state-of-the-art equipment is essential to closing the loop.
"Our deCON unit paired with our Starlinger extrusion lines, allows us to produce products faster and more efficiently than ever before while ensuring our customers continue to receive the highest quality products, said Blackmore"