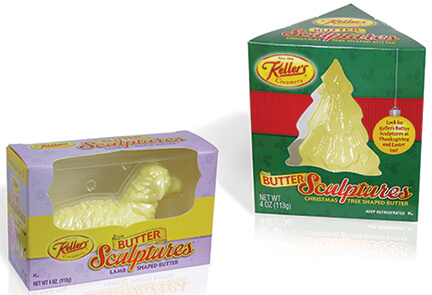 The Institute of Packaging Professionals one of the most prestigious packaging awards competition in North America announced that Display Pack's packaging design for the
Butterball Farms Butter Sculptures packaging received the 2014 AmeriStar Award. As a winner, Display Pack's design will be automatically eligible for entry to the World Packaging Organization's WorldStar Packaging Awards.
Butterball Farms looked to Display Pack when they needed a solution to packaging their butter sculptures. We were able to provide them with an innovative and attractive solution-a package that is also a mold for the butter sculpture! We created a clamshell that would allow the customer to mold the butter directly into the clamshell, process the product, and then place the clamshell in a die-cut, un- windowed carton. The molded butter is encased in the clamshell from the time it is molded until the customer opens the clamshell to serve the butter.
The new package is designed to run on Butterball Farms' existing machinery, allowing them to inject butter directly into the mold without protective plastic wrap, without handling the product, and eliminating the steps of trimming and smoothing the shape of the butter off the mold. A rail feature with reverse draft was designed around the perimeter of each mold to minimize and control the flashing of the warm butter in the clamshell mold. Our package design successfully crossed over from the packaging process into the actual product molding process, resulting in a protective and attractive package that creates a beautiful butter sculpture product.